Happy Wednesday!
This week is draaaaaging along. Do you guys every have weeks like that? I am totally struggling to get though it! So knowing that after today I am on the downward slope to the weekend brings a huge smile to my face!!
Well, that, and I love my weekly WIAW party!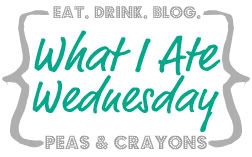 This Wednesday I'm sharing some of my recent food obsessions. These are the things I can't get enough of lately…
Strawberries! Or as my little cousin calls them, "straw-babies!" They are ripe and delicious at every farmer's market/grocery store right now and I haven't stopped eating them all week. Strawberry smoothies, chopped and mixed with greek yogurt, whole on the way to the gym, straight out of the basket on the way home from the farmer's market, even…strawberry cake! <—hint of something to come
Sweet potatoes! That giant box at Costco gets me every time. I just can't resist. So, I do everything with them. Bake, roast, boil, fry, BBQ. This pic is of a maple cayenne glaze…YUM!
Avocado! Another in season fruit I am taking full advantage of! I could eat guacamole morning, noon, and night. Guacamole is like a blank canvas – you can put anything in it and it still tastes awesome. I have spent the last 5 days 100% proving this hypothesis.
Last but not least, Mango Quinoa Salad! The recipe for this one is coming but suffice it to say I have eaten it every day this week for lunch and still want more! I haven't found a salad this satisfying, delicious, and FILLING in a long time. I am definitely keeping this one in the old memory bank!
So there you have it! What can't you get enough of lately??
Happy Wednesday to all!