Happy Wednesday! So, I was so excited for my very first What I Ate Wednesday post! This saturday I photographed my entire day of food (it was pretty good I won't lie) then what happens? I totally forget my camera and cord to load my photos into my computer. Wha wah wahhhhhh
Oh well! Luckily I have been meaning to post this smoothie recipe for ages and since I had it for breakfast this morning I'm doing a special edition of WIA(for breakfast)W !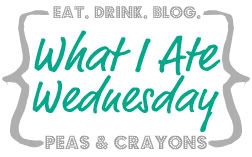 I have this smoothie at least a few times a week for breakfast. It is packed with nutrition and so yummy! I even make them for my husband! He was skeptical at first, what with the green color and all, but now loves them! I really wasn't lying when I told him you can't taste the spinach at all in this smoothie, but you still get all the nutritional benefits – score!
Looks like the start to a delicious smoothie huh?!
Trust me on this one. Try it once and you'll be hooked!
I use pretty much the same recipe, but it is definitely something you can (and should!) make your own with whatever fruit you like!
Super Healthy Green Smoothie (makes 2)
5 cups spinach
2 big scoops vanilla protein powder
1 T ground flaxseed
1/2 cup frozen mango
1 banana sliced
1 1/2 cups unsweetened almond milk
Blend until smooth, add a straw, and you are ready to take on the day! Enjoy! 
Oh and don't worry, I'll post my original  WIAW post next week!